The new MACRA implementation has brought about nothing but chaos and confusion among medical practitioners, and more so for cardiovascular specialists. MIPS (Merit Based Incentive Payment System) is the new payment model that is geared towards a value-based payment rather than the existing service based model. This shift comes with a number of changes that a medical practitioner has to incorporate into his practice in order to ensure that the revenue is not amiss.
What you need to know about MIPS
According to MIPS, your Medicare payment adjustment is based on four parameters which are given an appropriate weight. You ought to submit the measures for these categories separately, which includes:
Quality (60%): it assesses the quality of the medical services rendered to the patient in a timely fashion.
Advancing Care Information (25%): This includes recording all the necessary information about the patient and their illness using a certified electronic health record technology.
Improvement Activities (15%): This refers to a variety of patient care facilities such as patient safety, hospital population management, health equity and more.
Cost (0% currently, is expected to change in future): This is based on the Medicare claims data, but is not used in the adjustment of the first payment year (CY2019).
If you choose to participate in the Quality Payment Program via MIPS, you can opt for one of three integration options in the first year, namely test, partial and full. These choices are geared to assist you in understanding how MIPS works for your practice and how you can redesign your billing and data collection process in order to make it easy for you before you integrate it fully into your practice.
The EHR
Cardiologists should work closely with their EHR vendors to ensure that their online and digital systems are suitable to handle the requirements of the MIPS. Make sure to choose the six necessary measures that are to be submitted to the MIPS quality category, and understand how these numbers fare against the national benchmarks. This will help give you a clear picture of where your lack, thus enabling you to improve on such factors at the earliest.
You can have your EHR vendor customize your systems to incorporate these measures with ease. This will ensure that you are recording and filing the right information as and when required. The reports generated by the EHR has to be taken seriously, and you should work towards improving those numbers to match the national average, at the minimum.
Importance of record keeping
A cardiologist should occasionally look themselves up on CMS.gov, to check their reports online, and compare where they stand with respect to their peers. You should especially keep track of the Quality and Resource Use Reports (QRURs), which includes the readmission rates of the facility.
You should keep track of every documentation of every patient. Digitization of record-keeping has made it easy to record, access and retrieve prior information. You should use this to your advantage, and update the patient information on a digital sphere with every chance you get.
If you run a cardiology practice and are worried about making sense of the MIPS, fret not. Our experts at MedConverge will help assist you in all aspects of your billing, thus ensuring that your practice adheres to the necessities put forth by the appropriate authoritative bodies, thus staying in accordance with the MIPS.
For more information on how MedConverge can assist you with your Cardiology Billing, take a look here.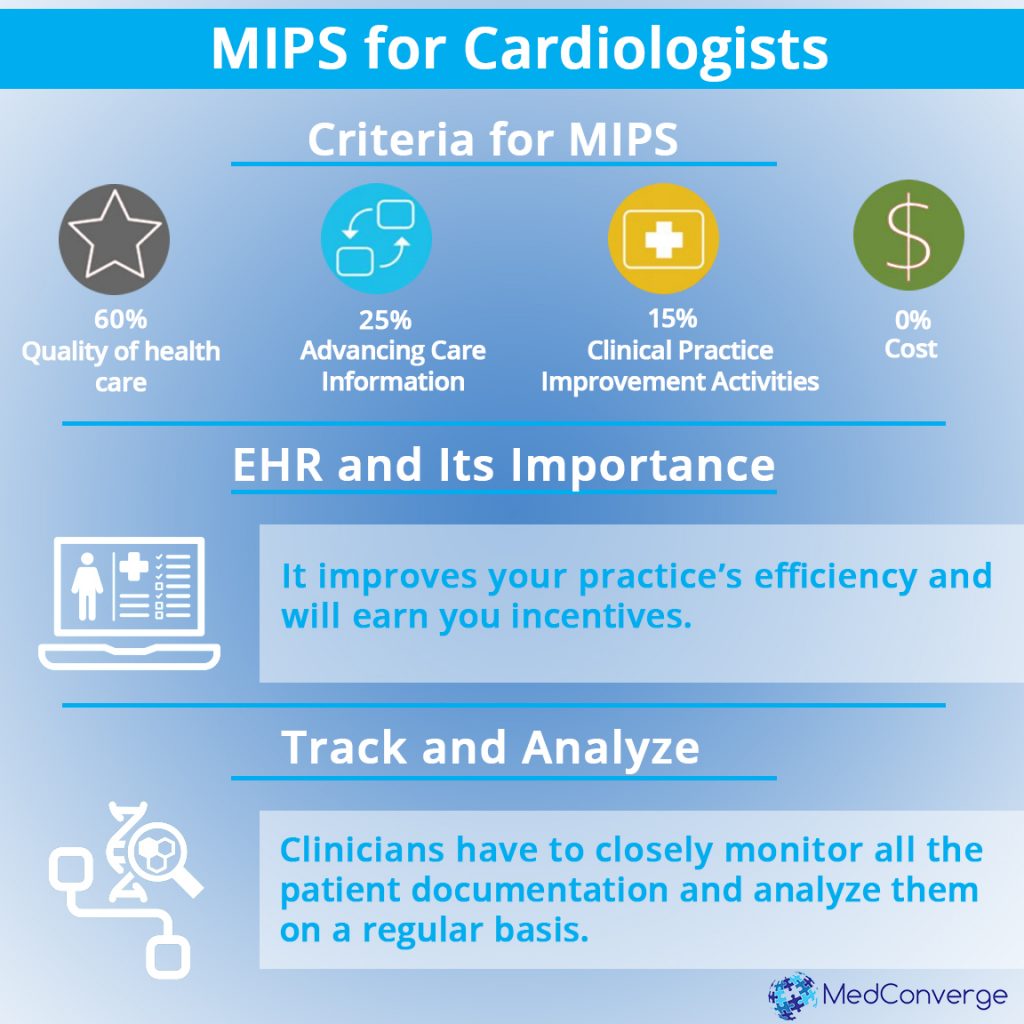 ---
References
David, K. B. (2017, January 30). MIPS tips for cardiologists feeling clueless about MACRA. Retrieved May 21, 2017, from Cardoivascular Business: http://www.cardiovascularbusiness.com/topics/healthcare-economics/mips-tips-cardiologists-feeling-clueless-about-macra
Liberman, J. D. (2016, June). MACRA implementation brings radical changes to cardiology practice. Retrieved May 21, 2017, from Healio Cardiology Today: http://www.healio.com/cardiology/practice-management/news/print/cardiology-today/%7Ba1ffca0e-9fcc-48ed-a485-cfcd9312bd3c%7D/macra-implementation-brings-radical-changes-to-cardiology-practice
N/A. (2017, May 21). Educational Resources. Retrieved from Quality Payment Program: https://qpp.cms.gov/resources/education