The addition of ancillary services to your existing medical practice can help maximize profitability and serve your patients better.  Patients prefer to have the convenience of getting medications at the medical clinic/office and having laboratory or diagnostic services done by the physician's setup itself, rather than having to go to different places across town.  Physicians providing patients with these added services are likely to see an increase in both revenues and patients.  Depending on their type of practice, physicians are adding many new services, with some even falling out of insurance coverage where patients are paying for them out-of-pocket.
However, the numbers of practices that have launched new services recently is still small.  According to Medscape's Physician Compensation Report, only one fifth of doctors interviewed said that they had started providing ancillary services.  While any type of practice can add ancillary services, PCPs (primary care physicians) have the benefit of choosing the maximum range of services that can be added.
But, how does a practice decide what ancillary service to offer?  One of the best ways to figure that out is to look at the referrals – services that you have been referring out are prime prospects to be added as ancillary services to your practice.  Out of all the services that you refer out, find the ones that are highest in number, for example, if your blood test referrals are 60% of the total; then providing blood tests at your practice should be a good proposition.  However, a complete feasibility study is important to determine volumes and payer coverage in order to be sure of the viability of the added expenses and requirements.  You also need to work out your cost benefit ratios before starting any added services.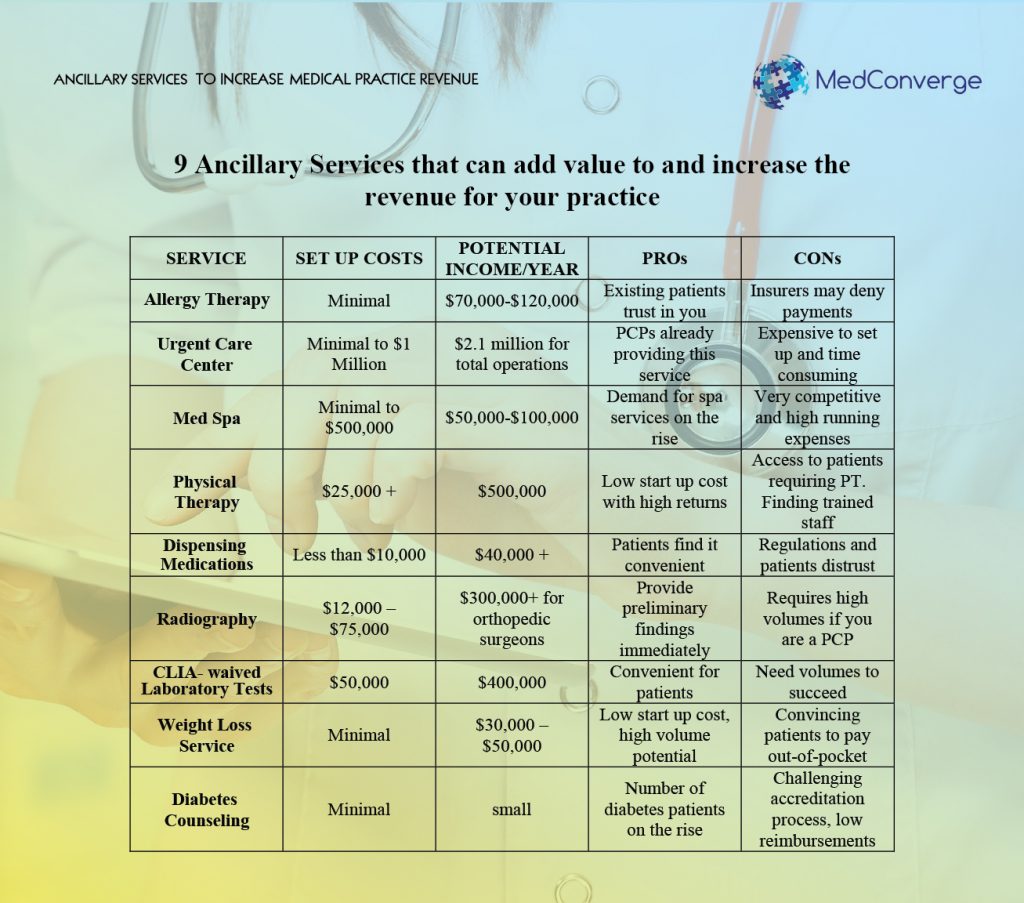 With shrinking reimbursements, the number of physicians offering added ancillary services is going to rise.  However, before you step up and start investing in providing these add on services, you need to make a careful examination of your areas of interest and strength, the needs of your patients, the competition in your area, the cost benefit ratio of these services, the regulatory compliance and accreditation required, and your time constraints.
A complete analysis will help ensure that your new ancillary services are adding to your bottom line without taking anything away from your primary practice.
While it is always a good idea to add value by way of additional ancillary services, one needs to ensure that payments for services are cleared in the shortest time frame. Download the whitepaper on Tips to Improve Patient Collections at the Front Desk.