Managing your healthcare revenue cycle is never easy.  Revenue leaks can create havoc with your organizations financial viability.  The root cause of revenue leaks are generally internal, with someone in the system or the system itself, not performing correctly or efficiently.  According to Marc Lion, CEO of Lion & Company CPAs, the average medical practice has a 10 to 15 percent profit leak.
However, the good news is that revenue leaks are preventable with analytics and diligence. Given below are three ways to stop revenue leaks in your medical practice.
Monitor your payments
It is very important to monitor your payments regularly – in fact; it should be part of a weekly schedule.  Despite all the advancements in information technology, errors on medical claims by commercial insurance companies average 7.1%, according to the AMA (American Medical Association).  Medical business office associates will key into the billing system what is written on the paper.  Any mistake or undercharge made at your end is going to be reflected as it is and that will definitely hurt your bottom line.  One way to ensure that there are no underpayments is by obtaining the rates directly from the insurance company.  Make sure that you are aware of each rate at the time of negotiating the contract and also when your renewal comes up.  Ask the insurers representative to clarify all your doubts and answer all your queries regarding the reimbursements.
If the rates offered do not match your expectations, negotiate with the insurance company.  You can always get better rates for services that few can perform in your area.  Be sure to check the accuracy of every payment at the CPT code level.  Your system needs to be fed the current fee schedules for you to benefit from them.
Review your denials regularly
It is so much easier to write-off denied payments than to pursue them – and this does happen.  The only way to ensure that your denials keep reducing is to review them regularly.  Is there a pattern to your denials?  If yes, what steps can be taken to ensure that they are not repeated.  Each and every denial needs to be reviewed and pursued; even better if you can do this on a weekly basis.  Bring everyone connected with the denials into the loop and chalk out steps that will ensure that the same mistake is not repeated.  Only if you find that the denial cannot be pursued any further, allow it to be written off.  It is also important to remember that there are time limits for appealing denials.  Make sure that you do not allow this travesty to take place.
Set guidelines in place for everyone involved with medical billing and claims.  Establish a medical claim denial management procedure that has to be followed to the letter.
Time is money
You have worked hard to reach where you are and your time is your biggest asset.  Time is money and wasted time means lost revenue.  Ensure that your office is prepared to fully utilize the time of the day – set up a system that makes efficient use of everyone's time.  Time lost in searching for something that is not where it should be, hunting for records after a patient is sitting in front of you, trying to find an associate when you already knew that he would be needed – all of these activities cost you precious time and even more precious revenue.
Create a work flow for your staff, make sure that your supplies are all kept in the appropriate place; records need to be placed in the proper files and drawers – these all seem like basic tasks, but believe me, this is where a lot of practices lose time.  It pays to train your staff to work at the peak of their license – from receiving phone calls to preparing the patient for an examination.  The smoother things move, the more number of patients can be accommodated and more patients translate into more revenue.
In a nutshell
These are the key steps to ensure that you do not leak revenue in your medical practice.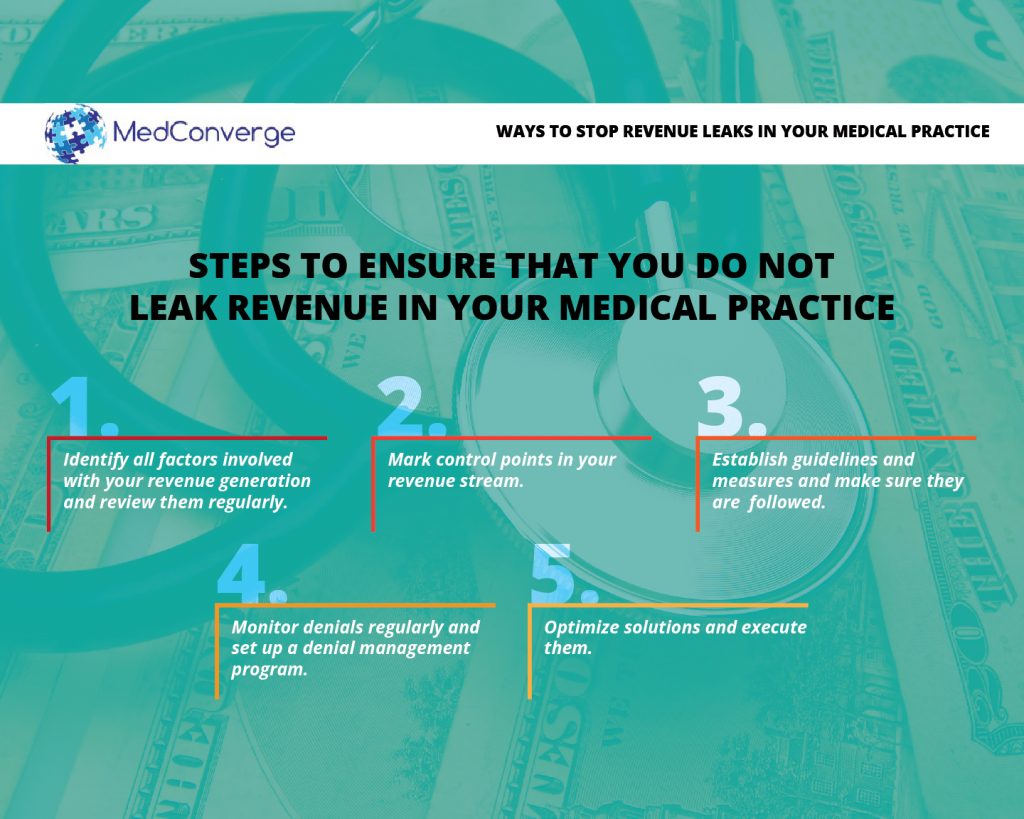 Identify all factors involved with your revenue generation and review them regularly.
Mark control points in your revenue stream.
Establish guidelines and measures and make sure they are followed.
Monitor denials regularly and set up a denial management program.
Optimize solutions and execute them.
While it may take time to stem the revenue leakage, it is worth the time and effort required to put these steps in place.  Managing your revenue is an ongoing process that requires regular interventions and changes to match the requirements of the marketplace.  In the end you will find that the results far outweigh the work put into it.